Reading Amateur Regatta - Racing on home water
Reading Amateur Regatta is a great opportunity to get some one on one racing in before Henley Womens Regatta and Henley Royal Regatta. We had a good weekend of racing with several wins and lots of crews getting through to their respective finals.
Saturday: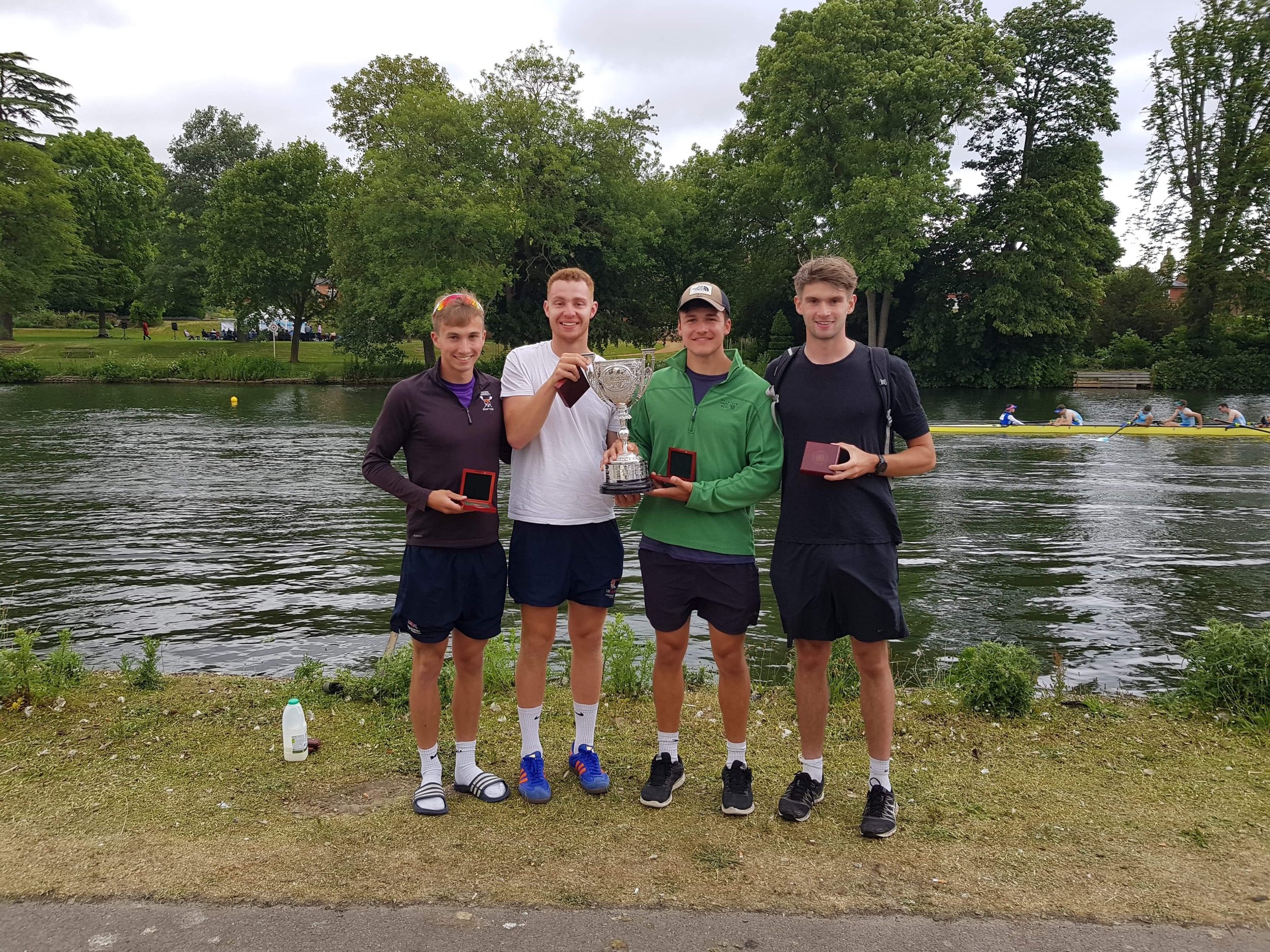 The first win of the weekend came from our Senior A men's quad of George Lawton, Rory Harris, Olly Dix and Frank Hamilton who beat our second men's quad to take first place. A great result to have two boats in the final and cause for excitement in the lead up to Marlow and HRR. Our women's Senior A quad of Chloe Knight, Lucy Ryan, Hettie Horler and Anna Smart had some last minute changes on the day and were knocked out in the semi-finals but are looking forward to making some steps on before the rest of summer racing. Our women's Senior B quad of Sophie Lewis, Beatrice Roe, Kate Lyster and Emily May made it to the final and had a gutsy race against a Bath/Minerva Bath composite but unfortunately missed out on the win by only a canvas. We also had two women's Senior B singles racing, Victoria Norton and Charlotte Bawn, they raced well and were knocked out in the quarter and semi finals respectively.
Sunday:
On Sunday our men's squad dominated the Senior A double category with every single entry being from Reading University. The eventual winners were George Lawton and Rory Harris who beat Ollie Irwin and Alex Badcott in the final. We also entered several women's Senior A doubles, Bea Roe and Kate Lyster were knocked out by another Reading double of Chloe Knight and Lucy Ryan who went on to win the event, beating our third double of Hettie Horler and Meg Park. A great result to have all Reading finals in both the Senior A doubles! Another win came from Luke Reiser in the men's Senior A single, he raced well and beat a sculler from the University of Birmingham to take the win. Our other men's singles on the Sunday were two of our beginners, Joe Pitt and Ed de Boehmler, who began rowing this year, they had good races but were both knocked out. Last but not least are our women's single scullers, we had two entered, both in the Senior B category. They raced each other in the quarter final with Victoria coming out on top, she won her next round as well before being beaten in the final despite a very strong race.