Henley Royal Regatta - A record breaking year for RUBC
At Henley Royal Regatta this year we had four boats racing for the Prince of Wales Challenge Cup after pre-qualifying one boat and the other three through the qualification races, a result unmatched by any other club this year. Our four quads made up a quarter of the draw out of a total of sixteen boats. This is a record result for RUBC and shows the great strength and depth of our men's squad.
The first race for our crews came from our 'C' boat of Harvey Jacklin, Ollie Irwin, Alex Badcott and Rob McPherson. They had a tough and incredibly close race against a composite from Thames Rowing Club and London Rowing Club racing side by side the whole way down the course. In the end they fought well but lost out by only three feet.
Next up was our 'A' crew of Franklin Hamilton, Olly Dix, George Lawton and Rory Harris, the same crew which recently won a silver medal at BUCS Regatta. They came up against A.A.S.R Skoll, Netherlands, the eventual winners of the event. Our crew pushed the Dutch crew all the way, losing out by only a length, the same margin as in the final. A commendable result from our 'A' boat.
Our 'D' crew made up of alumni from our alumni club Ortner, Mark Lewis, James Robinson, Sam Twine and Simon Williamson. Racing on Thursday they came up against a crew from Edinburgh University and Nottingham Rowing Club. The crew raced well especially considering they only began training together recently but ended up losing to their opposition by three lengths.
Finally our 'B' boat were the last to race on Thursday. The crew of Sean O'Mahony, Laurence O'Connor, Luke Reiser and John Cooper had a strong race and beat their opposition of Nottingham University and Newcastle University by two lengths. On the Saturday they then raced the quarter final against RTHC Bayer Leverkusen and TVK Essen. Our crew pushed their opposition throughout the race, coming back on them towards the end and losing out by only a length.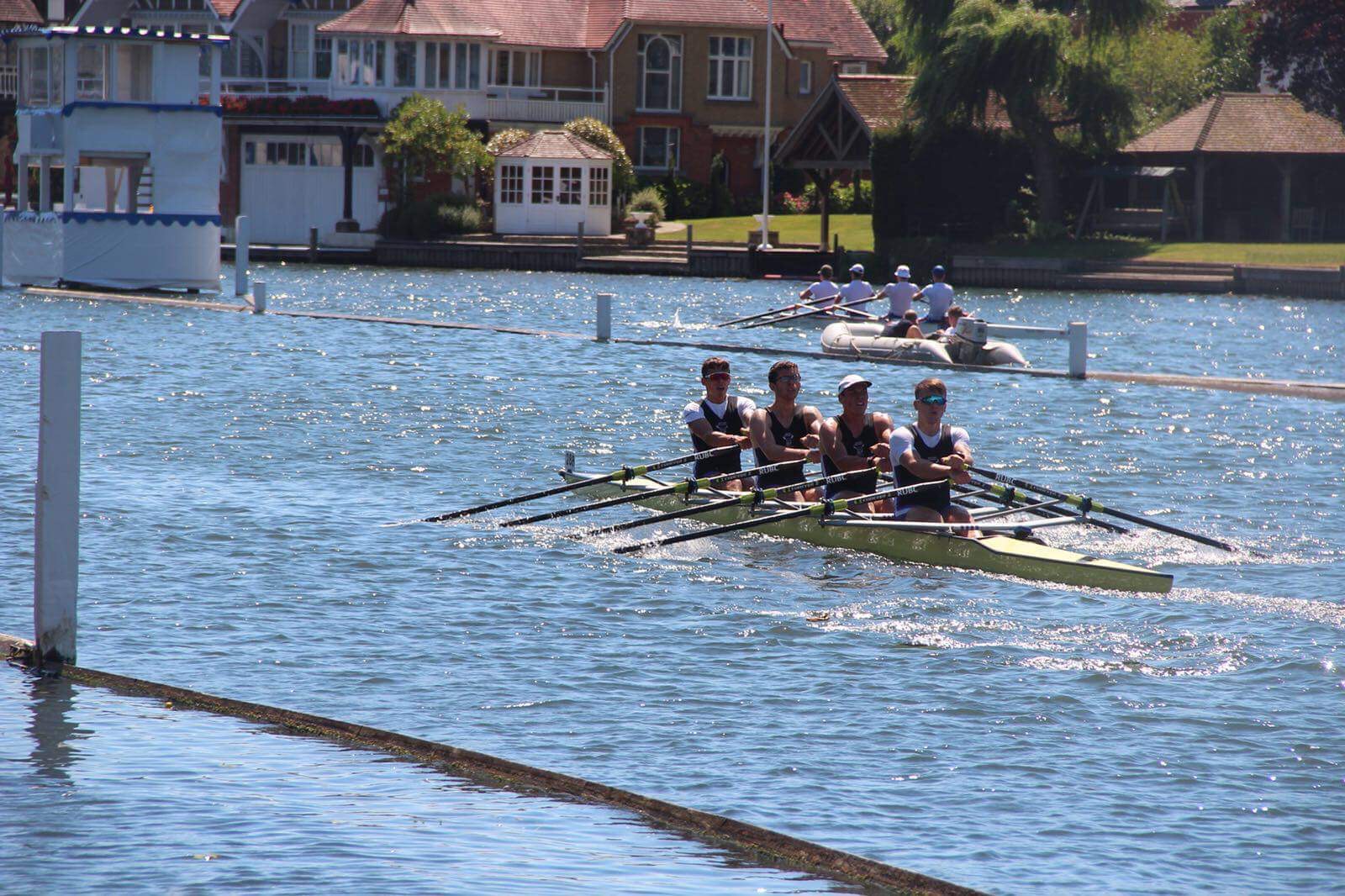 Mathilda Hodgkins-Byrne a current student at Reading University but racing as part of the GB senior squad won the Princess Grace Challenge Cup. They raced against Christiania Roklub Norway winning by three lengths, dominating from start to finish. A great result from Mathilda, congratulations to her and her crew!
Some of our alumni were also racing at Henley Royal Regatta for their current clubs. Stand out performances came from Caragh Mcmurtry and Emily Ashford both racing for Leander who together won the Town Challenge Cup. Also Adam Neill again racing for Leander won the Stewards Challenge Cup by two and a half lengths.
Overall our performance at this years Henley Royal Regatta showcased the strength we have in mens sculling and as we look forward to next year we can be excited for what's to come.
If you're interested in pursuing sculling and are thinking of coming to Reading University then please get in contact with our recruitment officers by emailing rubc.recruitment@gmail.com.